Over the past few years, the audio industry has taken advantage of the rapid development in IT networking. As networks have become faster with increased reliability together with robust wireless capabilities, many benefits have presented themselves and it made logical sense to implement this functionality into many products available on the market. Any modern pro audio equipment will highly likely have a network card which allows users to wirelessly connect to that device and be able to remotely configure, monitor and commission systems.
Why is this beneficial in the induction loop market? Customers who have already commissioned induction loop systems using our networked products will know the benefits by now, however those who haven't may struggle to see why this is quickly becoming the industry standard compared to the older analogue style amplifiers available on the market.
When commissioning induction loop systems, there are specific measurements which need to be accurately taken in the same spots dotted around the area of intended coverage. These are known as test points. Measurements can be taken using various measuring available which could be digital or analogue. For larger spaces, more test points should be measured against to ensure that the field strength and frequency response are as even as possible to provide hearing aid users with a consistent and compliant listening plane.
Environments such as theatres, lecture spaces, classrooms, and cinemas, amongst others, typically have amplifiers installed in a centralised equipment room or perhaps in a control room at the back of each theatre. This means that when a technician is commissioning a system without network functionality, every time the amplifier output current or MLC (metal loss compensation) control needs adjusting, for instance the technician must walk to wherever the amplifiers are installed, make the necessary adjustments and walk back to the same exact spot to make sure that the adjustments made on the amplifier are suitable. The back and forth walk also applies to when the relevant test signal needs to be triggered. This can prove to be frustrating and time consuming. When using the C or D series networked amplifiers offered by Ampetronic this all changes.
To illustrate the point, let us have a look at a theatre which has several test points indicated with a red mark as shown in Figure 1. There is a considerable number of test points and the reason for this is so that we can ensure that the intended area of coverage (best practice suggests full coverage to avoid disability discrimination) is compliant.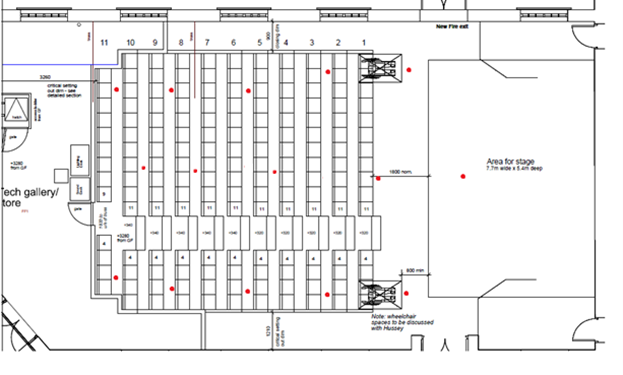 Figure 1
Without using network capable amplifiers, there will be significant travel between the test points and the amplifiers. When measuring at the designated test points, if the technician who is commissioning the system does travel to the amplifier and back, it is very important to make sure that measurements are taken at the exact same spot at the correct height to make the adjustment comparisons are fair.  This can be challenging to do unless you have a stand to hold the device in place. This problem is eliminated with network amplifiers as you can make adjustments on the fly.
Ampetronic networked amplifiers allow devices with a web browser to have access to the amplifier remotely. If using Loopworks Measure, an iOS device is required to control the amplifier directly from the Measure App. The App also would automatically trigger the appropriate test tones when commissioning rather than making the technician go back to the amplifier to do this. By having networked drivers, we can significantly reduce the time spent on each individual system, which means that labour costs are reduced and the overall commissioning experience is streamlined. If a number of identical systems are installed, the settings from one commissioned system can be transferred to the other amplifiers for even greater time saving.
Another great benefit which Ampetronic network amplifiers have is the ability to get instant emails sent to a designated account when an error within a loop system is flagged. This is very useful as maintenance teams can easily monitor systems and get an indication to what the fault may be. When installations are carried out, sometimes carpet fitters can cut through tape without making the cut appear to be an instant open circuit. However, over time when people walk on the area this may become intermittent which can be hard to find therefore having a log of the flagged faults will be beneficial in resolving such issues. One thing to bear in mind is that it is the duty of those providing a service to the public to ensure that their systems are fully functional, compliant and are providing a genuine benefit to the end client. 
NEW C Series networkable drivers now available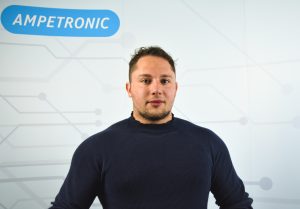 Andrew Attard
Business Development Engineer
Andrew Attard has a 1st class hons degree in Audio Engineering & Design. He has worked within the audio industry for 10 years and at Ampetronic for 3 years. Starting as a system design engineer he specified systems for large installations around the world as well as providing technical support and training to distributors, consultants, installers and advocates. Andrew has delivered technical training and seminars around the world to various consultants, distributors and integrators. Andrew now works as a business development engineer for assistive listening technology.