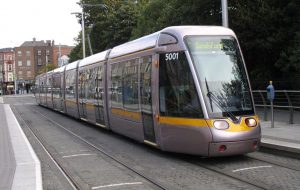 Ireland's Rail Procurement Agency identified that hard of hearing people using the LUAS tram services required access to public announcements and emergency messages transmitted via on board PA systems on their trams.
Ampetronic were identified as the only solution provider that could produce a usable and reliable induction loop system in what is effectively a vibrating metal box which interferes with the magnetic field that induction loop systems produce in order that a T-coil enabled hearing aid can pick it up.
A 24 volt variant of Ampetronic's XA88 hearing loop amplifier which is specifically designed for the application was installed by the manufacturers ALSTOM, on each tram of the network. In conjunction with a specially designed loop layout which was installed inside the ceiling cavity.
After installation the system was tested by members of Irelands DeafHear organisation one of whom was quoted saying "I never knew stations were announced before I did the loop testing".
For more information on LUAS trams please click HERE
For more information on ALSTOM manufacturers click HERE