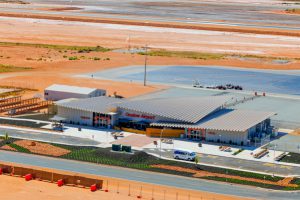 The Onslow Airport is owned and operated by the Shire of Ashburton, Pilbara, Western Australia. In addition to daily flight services to Perth, Onslow Airport also caters for General Aviation Private Charter flights and Royal Flying Doctor Services.
During a renovation project in 2014, the airport decided that to ensure those passengers with hearing loss could access the same travel information in an indiscriminate manner it would be essential to install Assistive Listening Devices such as Ampetronic hearing loop amplifiers.
Security Areas – In the security areas overspill was not a problem, therefore Perimeter Loop Area coverage systems could be used.
Departure Lounge – A slightly larger and more complex area needed a more powerful amplifier and design so to ensure that the loop provided value to the end user. ILD500 Phased Array area coverage systems were used. This also helped to control spill meaning additional loops can be installed at a later date if more areas need covering.
Equipment used:
Image credit: