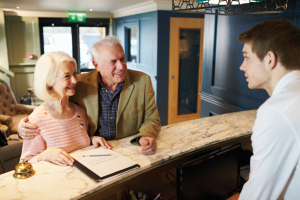 New regulatory Standards improve assistive listening for counter service. A new code of practice has been published this month, by the British standards institute (BSI). Amongst other recommendations, there's a significant difference related to installation of hearing loop systems, for service counter areas.
If you think about how often we all use service counters in our daily lives. Think about checkout operatives serving when shopping at a supermarket, or cashier services in a bank, you realise there are many places to which these new regulations could apply.
Released January 2018, these latest standards are part two, expanding on BS 8300-1:2017. Latest standards build on experience from London's 2012 Olympics, and crucially for accessibility, Paralympic games. One key implication is that all counter service areas need better provision for assisting those who experience hearing loss.
Applications for use seem potentially infinite. BSI's own website states that 'BS 8300 applies to a wide range of buildings, such as:
transport buildings
industrial buildings
administrative and commercial buildings
health and welfare buildings
refreshment, entertainment and recreation buildings
religious buildings and associated facilities
educational, cultural and scientific buildings
residential buildings, such as nursing, residential and care homes, student accommodation, common parts of blocks of flats
temporary structures accessible to or usable by the general public'
New standards aren't just for new builds either, they apply to existing structures too. Many businesses who don't currently have solutions, but serve the public or have visitors, will need to retro fit a suitable solution to comply with standards. With over three decades of experience in creating assistive listening solutions, Ampetronic have a range of products on the market which can help a person, who experiences hearing loss, at a service counter.  'Ampetronic's HLS series amplifiers, such as HLS-DM2, are perfect for counter service situations', a spokesperson for Ampetronic told us. 'Also used for speech transfer and intercoms, our HLS-DM2 was created to be a highest quality, market leading solution, which translated to meeting regulation requirements, before they were even written'.
So, if you would like to find out more, please contact Ampetronic on sales@ampetronic.com, or call UK +44 (0) 1636 610162.
ENDS
Editor's notes:
All media enquiries to: marketing@ampetronic.com
About Ampetronic™:
Founded in 1987, Ampetronic™ are innovators in the full range of induction loop and hearing loop systems and technologies. As passionate advocates for technology solutions which improve lives of those with hearing loss, Ampetronic™ design, manufacture, and promote loop systems, around the world. Key technologies include current drive and phase shift arrays.  For more information, visit www.ampetronic.com or follow us at:
https://twitter.com/ampetronic
How hearing loops work:
Find out more about how hearing loops work. Hearing loops can be installed in a variety of environments. Larger venues such as theatres, conference facilities and houses of worship. Smaller, one-on-one communication settings can benefit too, such as at ticket counters and in meeting rooms. Hearing loops can also be installed in taxis, trains, buses, and trams.