World leading induction loop manufacturer Ampetronic are launching the new MultiLoop™ Driver range at Frankfurt's Prolight & Sound Expo in April and at PLASA Focus in Leeds, continuing 25 years of market leading innovation.
The MultiLoop Driver (MLD) range amplifiers each drive two loop systems in combination, featuring dual output channels and 90° phase shift in a highly compact single rack space. Rack space saving is dramatic compared with any other solutions, reducing space and thermal management requirements by 50-90%. Combined with features to extend system flexibility and provide outstanding performance and reliability, the MLDs mark a major step forwards for professional loop systems.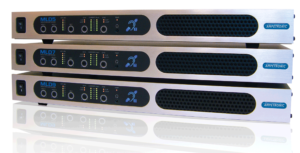 The MLDs can be used to drive combination loop systems for the most efficient possible coverage of large areas. Voltage and current headroom provide more capability than their predecessors, and put them in a different class of performance from the competition. The new amplifiers include as standard new fail-safe thermal protection techniques to ensure reliability and robustness in even the most challenging applications. Status reporting outputs on all amplifiers make for easy integration in other audio and safety systems.
Consisting of 3 units with a range of output currents for efficient area coverage solutions, the range is headed up by the MLD9 which features twin 9 amp rms output channels, Class G amplifiers that save up to 60% in energy consumption to minimize operational costs, and capable of driving areas of up-to 3,300m2 in combination with Ampetronic MultiLoop designs. The MLD9 is the highest output amplifier commercially available today.
Ampetronic's new products also mark an adoption of the new standard EN 62489-1, an important new reference for measurement and rating of induction loop equipment. Providing all product data according to this standard ensures specifiers can make simple and transparent comparison against other equipment, removing potential for misleading or exaggerated performance claims by manufacturers.
"The MLD units are a great step forwards in space efficiency and performance for professional hearing loop systems, and a step to ever better adoption of quality hearing accessibility" comments Ampetronic Managing Director Julian Pieters. "We have had a great response to the product range already, and are excited to be once again setting benchmarks for our industry."
Ampetronic will be exhibiting at Stand D40 in Hall 8 at Prolight & Sound, and at Stand B2 in the Royal Armouries Hall at PLASA Focus.