February 2018 release
One of the key challenges in installing a hearing loop system, is timing. Often customers want to install one, but don't want to have to change out suspended ceiling tiles, or pull up carpets. Therefore retro fit methodology is often seen as a harder solution to deliver. Typically therefore, installation becomes an add on consideration, for new builds or refurbishment. One way to potentially reduce impacts, is to time installation of a hearing loop system, with installation of additional hard wired system, which could be placed in similar areas.
Fire and security integrators are potentially a natural partner therefore, to hearing loop system specifiers and installers. Typically installing in suspended ceilings a range of products, such as smoke detectors, fire suppression nozzles or CCTV cameras. Such suppliers are typically accessing similar roof spaces, which could b
e also used for the hearing loop installation.
For this reason, marketing leading hearing loop system providers Ampetronic, have recently announced a progressive new partnership deal has been signed, with Trinity Fire and Security Systems.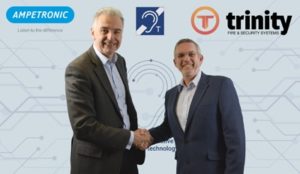 Trinity are one of the largest independent fire and security integrators in the UK and have 10 regional offices. Trinity's high level of ongoing support to their national and regional client base is provided via 180 technical engineers. As an independent company, Trinity has achieved strong growth for more than two decades into the highly regarded company that continues to flourish with an ever growing portfolio of prestigious clients. Trinity offer customers detailed 'knowledge of fire, life safety, and security systems', by sourcing, supplying, and installing 'products from trusted partners, all of whom have been robustly evaluated'.
Founded in 1987, Ampetronic™ are innovators in a full range of induction loop and hearing loop systems and technologies. As passionate advocates for technology solutions which improve lives of those with hearing loss, Ampetronic™ design, manufacture, and promote loop systems, around the world. Key technologies include MultiLoop arrays.
By working together, Ampetronic and Trinity can install and fulfil multiple customer requirements in harmony, for minimal customer disruption and downtime.
For more information, visit www.ampetronic.com, or contact sales@ampetronic.com.
ENDS
Media enquiries to: marketing@ampetronic.com