See Loopworks Design tool and D Series amplifiers, from Ampetronic, unveiled. All visitors to ISE 2018 are invited to visit Ampetronic's stand, and discover the very latest developments in assistive listening from the world's leading hearing loop manufacturer.
At ISE 2018, Ampetronic will be demonstrating Loopworks™ productivity suite, with new online design tool. Loopworks™ Design offers Ampetronic customers including, system specifiers, designers, and installers, access to Ampetronic's expert hearing loop development and testing tools.
There will be live demonstrations of Loopworks throughout the show.
Ampetronic will be showcasing the very latest technology, with flagship D Series Networkable DSP MultiLoop™ drivers and brand new HLS-2C Active Panel Loop for intercoms. Ampetronic's D Series represents a global benchmark system for digital audio hearing loops. Compact, elegant, and sturdy, D Series units not only feature digital signal processing and networking functionality, but are also the most versatile and powerful solutions available.  Versions also feature a dedicated input for plug and play network audio.
The HLS-2C Active Loop Panel is a lightweight, compact unit, with aesthetic styling designed to complement typical intercoms. It combines all the crucial elements of a functional hearing loop system, requiring only power and an audio input to provide essential access to individuals with hearing loss.
Loopworks, D Series drivers and Active Loop Panel products will all be available for viewing, at ISE, alongside Ampetronics further product portfolio. There's even a sneak preview of the future of Assistive Listening in a seminar, on Wednesday 7 February at this show.
Ampetronic would also like to invite delegates to join a 'beer and gear event', on Thursday 8 February, at 16:30 in Hall 7 on stand C190. Pop in for a drink and a friendly chat, and meet the team that make up the world's most experienced loop design and support service.
Throughout ISE, Ampetronic's experts will be available in Hall 7 on stand C190 with a warm welcome and the very latest developments from the world's leading hearing loop manufacturer. So, if you would like to sign up for a tour of Loopworks and Loopworks Design, please contact Ampetronic at sales@ampetronic.com, or call UK +44 (0) 1636 610160, or international: +44 (0) 1636 602161. See you there!
ENDS
Media enquiries to: marketing@ampetronic.com
Editor's notes:
Media enquiries to: marketing@ampetronic.com
About Ampetronic™:
Founded in 1987, Ampetronic™ are innovators in the full range of induction loop and hearing loop systems and technologies. As passionate advocates for technology solutions which improve lives of those with hearing loss, Ampetronic™ design, manufacture, and promote loop systems, around the world. Key technologies include current drive and phase shift arrays.  For more information, visit www.ampetronic.com or follow us at:
https://twitter.com/ampetronic.
Find out more about ISE at: www.iseurope.org.
How hearing loops work:
Find out more about how hearing loops work. Hearing loops can be installed in a variety of environments. Larger venues such as theatres, conference facilities and houses of worship. Smaller, one-on-one communication settings can benefit too, such as at ticket counters and in meeting rooms. Hearing loops can also be installed in taxis, trains, buses, and trams.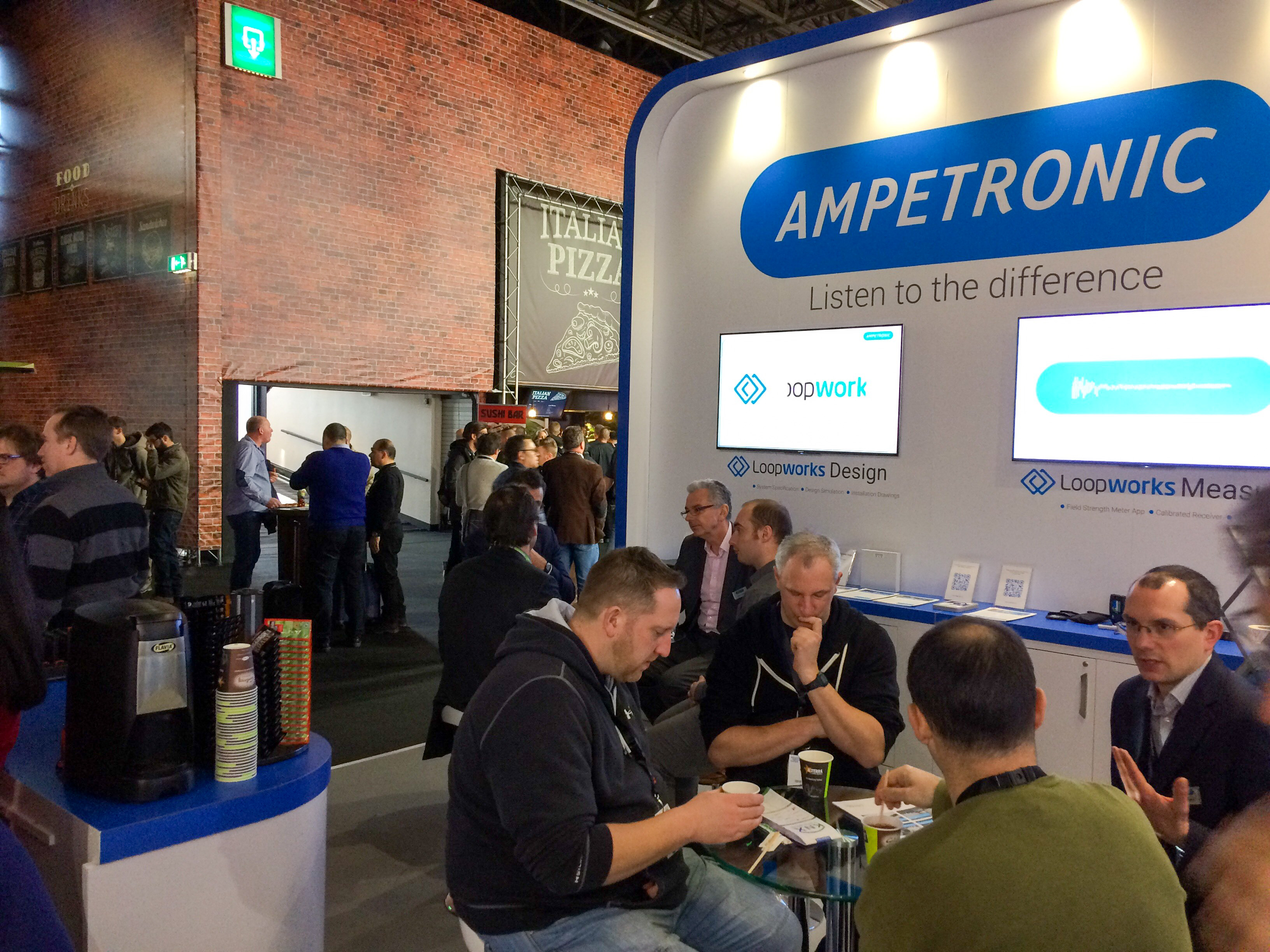 Photo shows Ampetronic's stand at ISE with Listen in 2017