The Williams AV DigiWave beltpack digital radio products, provide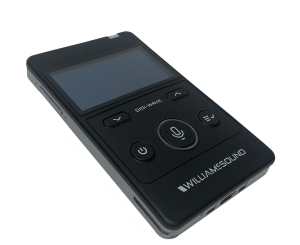 entirely portable wireless audio transmission for a range of purposes, including workplace protection, guided tours, language interpretation, and assistive listening. Two-way capable, allowing for interactive tours, etc.
Crystal-clear digital sound quality
Simple to use and set up with easy pairing
Use as an intercom for up to 6 simultaneous speakers and
unlimited listeners
Range up to 270m plus (depending upon environmental
conditions)
Ampetronic are proud to be the strategic partner for Williams AV and distributor of Tour-guide systems in the UK and distributor partner in Europe.
For UK customers please visit https://av.ampetronic.com for more information.
For customers outside the UK please contact your local Williams AV Professional Audio dealer or visit https://williamsav.com.