The Williams AV DigiWave beltpack digital radio products and tour-guide solutions, provide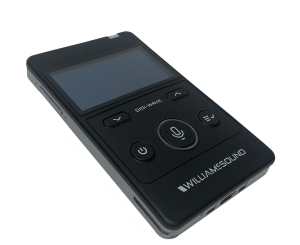 entirely portable wireless audio transmission for a range of purposes, including workplace protection, guided tours, language interpretation, and assistive listening. Two-way capable, allowing for interactive tours, etc.
Crystal-clear digital sound quality
Simple to use and set up with easy pairing
Use as an intercom for up to 6 simultaneous speakers and
unlimited listeners
Range up to 270m plus (depending upon environmental
conditions)
Ampetronic are proud to be the strategic partner for Williams AV and distributor of Tour-guide systems in the UK and distributor partner in Europe.
For UK customers please visit https://av.ampetronic.com for more information.
For customers outside the UK please contact your local Williams AV Professional Audio dealer or visit https://williamsav.com.

Tour-guide solutions
The Digi-Wave™ is a digital spread-spectrum (DSS), simultaneous two-way wireless listening system. Using it's frequency-hopping algorithm, it avoids interference and is a very secure method of communication. The Digi-Wave communication system allows users to listen and talk to one another wirelessly in a variety of scenarios.
A Digi-Wave system consists of at least one transceiver (W-DLT 400) and various combinations of transceivers and receivers (W-DLR 400 RCH or W-DLR 400 ALK). Combinations of one or more DLT's and DLR's can be used to facilitate different events, depending on what needs to be spoken and what needs to be heard. Typical scenarios include:
Guided Tours – with one or more tour guides (2-way), with audience participation (2-way), or without audience participation (1-way)
Language Interpretation – one or more interpreted languages transmitted to audience (1-way)
Intercom – with up to six people able to speak simultaneously, and even more listening
Hearing Assistance – featuring boosted audio for improved comprehension
The Williams FM system, T2800 FM base station transmitter operates on the 863 MHz bandwidth for European use.  It will broadcast a speaker's voice, music program or audio service wirelessly up to 500 feet to a portable hearing amplifier, FM listening device.  Set-up is quick and easy,  connect the unit to a sound system or other audio service through a line-level (RCA) jack.  Ideal for language interpretation, wireless assistive listening or FM assistive listening applications.  Compatible with the Williams R2 863 FM receivers.

Applications:
Schools
Auditoriums
Houses of Worship
Cinemas
Theatres
Stadiums