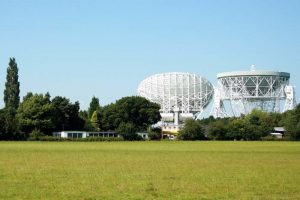 The Jodrell Bank Discovery Centre in Cheshire is part of the Jodrell Bank Centre for Astrophysics at the University of Manchester. The Discovery Centre has been designed as a destination for families, who can explore the wonders of the universe and learn more about the workings of the giant Lovell Telescope. Opening in 2015, the Centre's new Star Pavilion will be used for events, lectures and educational workshops. It will also be available for celebrations and corporate hire.
The inclusion of an assistive listening system at the very outset, was key to the development of the new Star Pavilion. Because of the sensitivity of the Lovell Telescope, the whole site is also a mobile free zone and a low spill solution was therefore essential. Faced with the challenges of making a large, multipurpose room with retractable seating and an adjacent staff office requiring overspill control to the multi-purpose hall, accessible for people with hearing loss, the Centre manager knew the project would require the skills of seasoned loop system experts.
The loop system in the multipurpose hall had to be flexible enough to function perfectly when the retractable seating was in and out of use; it also had to be "fit and forget": installed to a very high standard once and then used in multiple configurations, without the need for switching. The design solution provided by Ampetronic was for two separate systems: one solution for the hall, consisting of a standard array system with two arrays of narrow loops installed overlapping one another using one MLD9 Multiloop driver and one solution for the seating.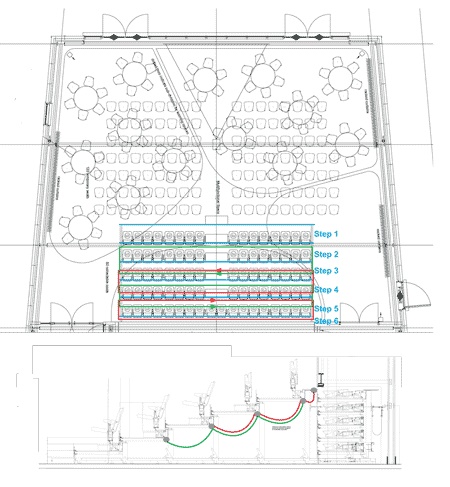 The loop system in the retractable seating was installed into the actual seating structure and powered by one MLD5 Multiloop driver; this solution ensured an even signal could be achieved when the seating was in situ, and that all parts of the room could be used at all times and in multiple configurations. The loop layout in the staff office consisted of one main loop and a smaller cancellation loop that controlled overspill to the multi-purpose hall, powered by one ILD300 Induction loop driver.
In both installations, it was the precise size and position of the loops that achieved signal cancellation, allowing the separation between the rooms and reduction of field outside the hall to be achieved, in compliance with the mobile free requirements of the whole site. This solution also facilitated even signal coverage in both areas, maintaining confidentiality in the staff office with systems which are truly fit and forget, without the need for switching in the multi-purpose flexible space.
Ampetronic provided both the designs and equipment for the Star Pavilion and our client Tonetec Sound and Communications undertook the installation. The Ampetronic design was implemented perfectly by Tonetec, and the system adheres to the internationally recognised IEC60118-4 Standard.
Equipment used
Multipurpose room: 1 x MLD9 Multiloop driver
Retractable seating: 1 x MLD5
Staff office: 1 x ILD300 Induction loop driver
Installer info