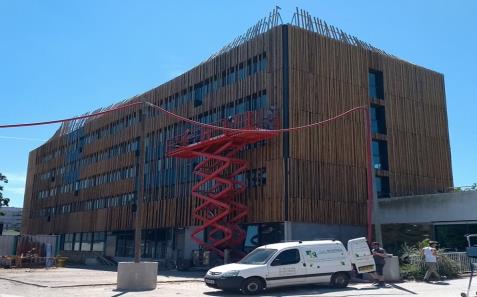 Client: HOTEL DES ASSOCIATIONS – 49 Angers
Objet/Subject : Deux salles de réunions adjacentes / Two adjacent meeting rooms
Installateur/Installer : EIB – 49 Angers, France
L'hôtel des Associations d'Angers est une réalisation marquante de la région. Il était nécessaire de mettre à disposition des associations des salles de réunions dotées d'équipements modernes et performants répondant aussi aux normes d'accessibilité.
The Hotel des Associations d'Angers is a major landmark and a significant achievement for the region. To make their adjacent meeting rooms accesible, to those who experience hearing loss, it was important to install modern, efficient equipment that provided a genuine benefit and met accessibility standards.
Pour les malentendants des systèmes de BIM Ampetronic ont été retenus Deux salles de réunions adjacentes, séparées par une simple cloison, ont été équipées de systèmes de boucles d'induction magnétique pour les malentendants. Les boucles de chaque salle devaient pouvoir être utilisées simultanément sans interférer entre elles.
Two adjacent meeting rooms, separated by a single partition, were equipped with hearing loops from BIM and Ampetronic. The loops of each room had to be able to be used simultaneously without interfering with each other.
Définition de boucles d'induction à ultra faible débordement conformes aux exigences
Les salles à équiper étant situées dans un immeuble moderne il fallait tenir compte des structures métalliques comme les ferraillages de béton, les ossatures métalliques de cloisons et de faux plafonds, etc. Le débordement des boucles devait être strictement contrôlé pour éviter les interférences entre les boucles. Des systèmes phasés de boucles en épingles à ultra faible débordement ont été définis par Ampetronic. Seul Ampetronic sait réaliser de tels systèmes qui nécessitent des moyens de simulation très sophistiqués et une parfaite maîtrise des BIM.
Definition of ultra low induction loops overflow in accordance with the requirements
The rooms to be equipped were located in a modern building therefore signal loss from metal structures like concrete reinforcement, metal structures partitions and false ceilings had to be taken into account. The overlapping of loop fields were strictly controlled to avoid interference between the loops and reduce signal interference. Phased array ultra-low loss Multiloops™  systems were specified by Ampetronic engineers to achieve this. Only Ampetronic knows how to design such complex systems with very sophisticated simulations. 
Des systèmes audio de qualité
Installer une boucle ne suffit pas, faut-il encore adresser dans la boucle les informations audio de qualité à destination des personnes malentendantes. Les systèmes de qualité retenus alimentent les amplificateurs de boucle Ampetronic type MLD7 et MLD9.
Quality audio systems
To install a loop is not enough, it must generate a signal that is of sufficient strength and quality to provide hearing aid users with inteligible sound throughout the area. The systems chosen, Ampetronic MLD7 and MLD9, were selected because of their power and quality.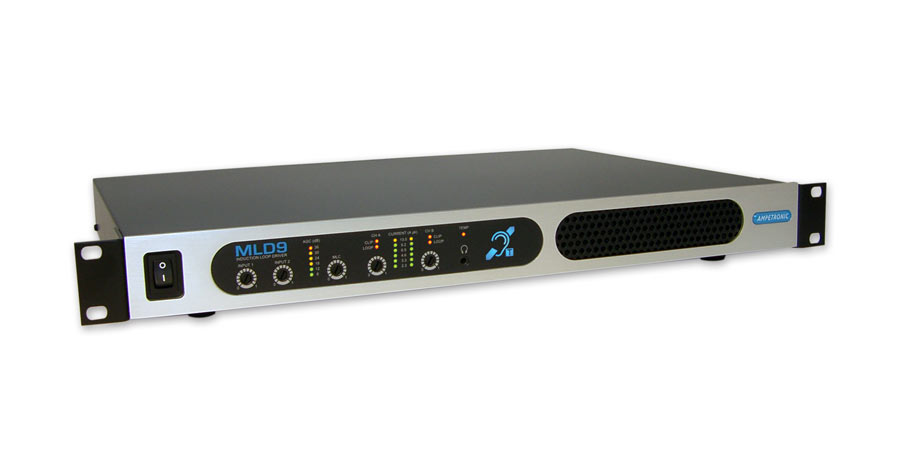 Mise en service, mesures et réglages
Avec un FSM Ampetronic, il a été procédé à un contrôle de la régularité des champs magnétiques et à l'équilibrage des réponses en fréquence. Il a été ensuite procédé à un ajustement précis de l'intensité des champs magnétiques. La qualité audio a également été contrôlée, ainsi que le débordement des boucles d'une salle vers l'autre. Les systèmes fonctionnent parfaitement et sont en tout point conforment au cahier des charges et aux exigences de la norme NF-EN 60118-4.
Il a été remis au client un testeur auditif de boucle Ampetronic ILR3 pour lui permettre de contrôler le bon fonctionnement des boucles. A noter que ces systèmes ILR3 peuvent aussi très utiles pour les personnes malentendantes non appareillées.
Un procès verbal de réception et de conformité a été remis au client.
Commissioning, measurements and settings
With an Ampetronic FSM, the regularity of the magnetic fields and the balancing of the frequency responses were checked. Then a fine adjustment of the intensity of the magnetic fields was made. The audio quality was also controlled, along with any signal overflow from one room to another. The systems work perfectly and are in every respect in accordance with the specifications and the requirements of the NF-EN 60118-4 standard.
The client was given an Ampetronic ILR3 audio loop receiver to allow him to check the loops were functioning properly. It should be noted that these ILR3 systems can also be very useful for non-hearing impaired people when checking loops or when listening to an audio signal in a noisy environment. A report of acceptance and compliance was then issued to the client.
For more information about this case contact:
Electroacoustique Consultant – EaC
Ingénierie audio et vidéo – Etudes et mesures acoustiques – Formation
131 chemin de la soupre – 84190 BEAUMES DE VENISE
Site internet : www.eac84.com – Adresse E-mail : eac@eac84.com
Tél. + 33 (0)4 90 62 97 39 – Fax : + 33 (0)9 72 14 34 11
or

BIM Concept France
Boucles d'induction magnétique pour malentendants – Etudes, contrôles, mesures
7 La Haute Rouaudière – 44330 Mouzillon (France)
Site Internet : www.bimconceptfrance.fr – E-mail : contact@bimconceptfrance.fr
Tél. : + 33(0)2 40 43 27 08 – Fax : + 33(0) 9 72 14 34 11
For more information on assistive listening from Ampetronic contact our friendly and knowledgeable team on:
+44 (0) 1636 610062
email: sales@ampetronic.co